How to prepare for the Ben Nevis Winter Ascent
Getting your preparation right before making a winter ascent of Ben Nevis is essential. Your safety, wellbeing and enjoyment really do depend on it.
Remember the winter conditions on the Ben will be cold, can be very windy and the summit has a substantial snow covering from mid November through until April. It is almost unrecognisable from the summit in summer. The Ben in winter is not for the faint hearted, but is achievable if you have a good level of fitness and resilience and are able to take the time to prepare.
To make it to the summit of Ben Nevis in safety and (relative) comfort you need to consider the following preparations.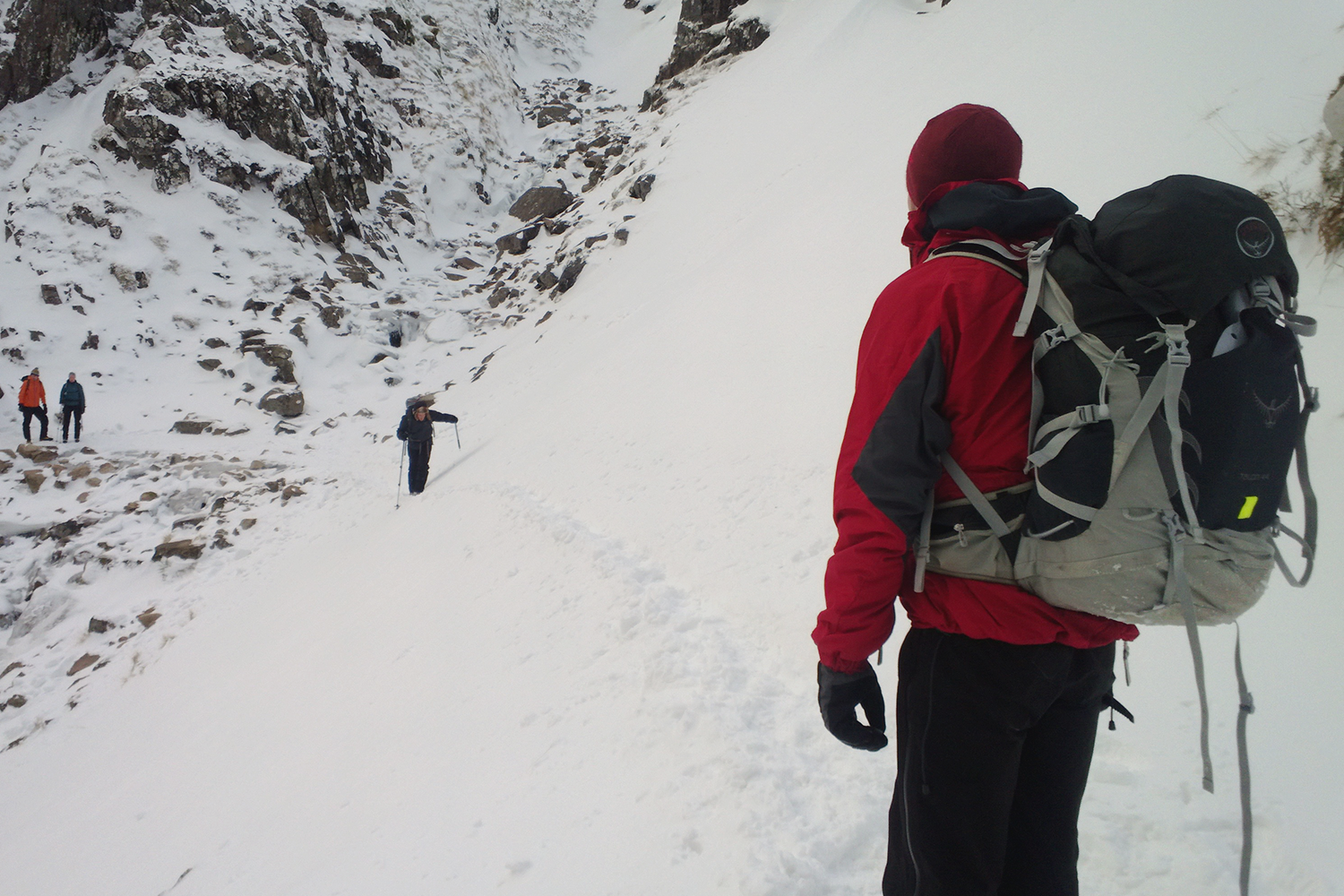 Get the right gear
That bitter winter wind across the Nevis range will find every flaw in your clothing, so our best advice is to 'buy well, buy once'. Do your research and make sure to test your equipment before you set out.
Layers, layers, layers. Think good, merino base layers – top and bottoms. A thin mid layer technical fleece, a top mid layer which should be a man made down like primaloft, walking trousers or leggings, then a quality waterproof shell top and bottom. Gloves and a hat are essential, and extra clothing in your bag for 'just in case'.
Which boots should I get for Ben Nevis?
Specialist boots are a must for climbing Ben Nevis in winter, but there is a huge range to choose from. They will all come with a 'B' rating which explains their suitability. We recommend a minimum B2 boot for our Ben Nevis winter walks as this offers the best balance between stiffness and comfort and they are crampon compatible.
Winter Boot B-ratings
B1 – These boots offer a semi-stiffened sole and a supportive upper that is suitable for all round summer mountain use and non-technical winter walking. Crampon Use – Compatible only with strap-on C1 crampons.
B2 – These 4 season mountain boots are a great all-round option. They offer a stiffer sole and a warmer more supportive upper but still allow you to walk naturally making them suitable for all UK winter walking, alpine mountaineering, and some winter climbs. Crampon Use – Compatible with C1 and semi-automatic C2 crampons.
B3 – These are fully rigid, technical mountain boots that feature ledges at both heel and toe. These boots are generally much heavier and less comfortable and so are only really suitable for steep winter climbing. Crampon Use – Compatible with C3 step-in crampons.
Ice Axes
An ice axe is used most simply as a walking aid in snow and as a climbing aid in icy conditions. It is also used as a break in the event of a downhill slip.
Ice Axe Training is included on our winter training days prior to the Ben Nevis ascent.
Crampons
Crampons for winter walking (C2) are hinged in the middle and have spikes facing down and forward. These are compatible with 'B2' boots which have some flex. Un hinged crampons (C3 ) are only suitable for ridged B3 boots.
Crampon Training is included in all our winter ascents of Ben Nevis.
What to eat
This is the perfect time to eat all the pies! You can expect to burn in excess of 3000 calories on the winter ascent of Ben Nevis, so make sure you have a hearty breakfast and take plenty of calorie dense food and snacks for the journey. Then afterwards you can celebrate with tea and all the cake.
Getting Fit for Winter
Fitness is essential for walking in winter. It's way more strenuous than walking during the rest of the year. Think heavier gear, boots and more equipment. Taking higher steps through fresh snow and learning to use crampons and carrying ice axes all contribute to making winter mountaineering one of the most strenuous activities we offer.
The ascent of Ben Nevis in Winter can take from 6 – 10 hours, so your ability to keep going, good stamina, grit and determination are all essential.
We hope you choose to take on the challenge of Ben Nevis in Winter and that this article has inspired you.. It really is a stunning and magical place to see. Please get in touch with the team if you would like to discuss your Ben Nevis Winter adventure.