Our office team is based in Kirkby Stephen in Cumbria where we work away behind the scenes to make sure every adventure goes smoothly! We're lucky enough to the have the Lake District and the Yorkshire Dales on our doorstep, not to mention Wainwright's Coast to Coast and some awesome cycling – plenty of opportunities to get up to our own adventures!
Mike
I started Maximum Adventure in 2002. Since then it has grown from a hobby business to a professional set up encompassing a wide range of talents, cultures, abilities and nationalities. Before MaxAd, I completed a Physics degree at Durham University, subsequently embarking on a business graduate management training programme. I soon realised that my love of the outdoors was interfering with my development of a business career – it was at this stage I decided to embark on a business in the outdoors. I am a qualified mountain leader, cycle leader as well as Yachtmaster and have been fortunate enough to travel, climb, cycle and sail all over the world; the UK, The Alps, North America, South America, Africa, The Himalayas – the list is long but not exhaustive. I feel people should be more willing to go travelling, climbing and visiting places that they haven't been to. That's why I set up this company – to encourage people to enjoy the outdoors and to say 'you can do it' when maybe you don't think you can. Have a great holiday. We sincerely want you to!
Max
I've been there since the beginning – I didn't really have any choice, being married to Mike. We met at Durham University where I studied English and he studied Physics – and yet we got on! Maximum Adventure has moved house with us and grown along with our family, from just the two of us in Surrey to a family of five in rural Cumbria. I love the mountains, lakes and fells but I have no head for heights so the bigger challenges are left to Mike. In the office, my main roles are HR and finance and I divide my time between this and teaching English at the lovely local secondary school. Maximum Adventure was aptly named (though I've never been sure about the grammar) and our family loves the adventures it provides.
Lynda
I have been with Maximum Adventure for six and a half years now. I am a member of the finance team and as such am responsible for incoming payments, invoicing, outstanding balances etc. Previously I worked for a paragliding company, I know this sounds exciting but I kept my feet firmly on the ground in the office. I also worked for a brewery, but again only in the offices, so I didn't get to sample the merchandise!!! We live in a beautiful part of the country where I spend a great deal of my free time walking with my two dogs, Eric the Jack Russell and Barney the Beagle. I also enjoy live music, reading and crosswords.
Magdalena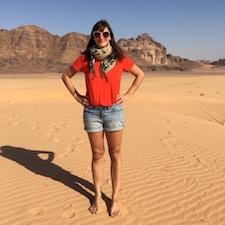 I am part of the finance team and have worked for Maximum Adventure for over 10 years. I am responsible for taking payments and ensuring that all our trips are fully paid for. I have a young family and we love nothing better than travelling to new and exciting places around the world. When at home we love walking and cycling in the beautiful Eden Valley.
Kay
I have recently joined the team at Maximum Adventure working as an Event Planner. As well as UK trips I also look after all the Mont Blanc Trips, liaising with guides, booking accommodation and huts, making sure everything runs smoothly. I previously worked in the Oil & Gas Industry for over 20 years arranging all travel requirements, so it's great to transfer some of those skills. I have grown up in the Eden Valley and when I'm not at work I love to get out exploring and camping in the countryside with my young family.
Rachel
I have been part of Maximum Adventure since April 2018. It's a great place to work with a team committed to giving customers the best service and experience. I joined the company as an Event Planner after moving to Cumbria with my husband and our two dogs, Halle and Hobbs. I have a passion for walking and adventure, having completed the Coast to Coast, Yorkshire 3 Peaks and, individually, the National 3 Peaks, my current challenge is bagging Wainwrights. Hope to see you on the hills!
Rebecca
I work as an Event Planner within the team here at Maximum Adventure, joining the business recently following a move back to Cumbria from Leicestershire where I worked within the Automotive industry. During 2018, I took part in my first long-distance cycling event (177x miles from Leicester–Blackpool where we raised over £10,000 for the DLR Air Ambulance) and also my first Half Marathon around Rutland Water– I definitely preferred the cycling to the running- so am currently looking into my next cycling challenge! When I'm not in the office, you can usually find me out walking in the Lakes & Dales with my dog (Curtis, the loopy spaniel/saluki cross) or on a camping adventure with my partner in our Defender & Roof-Tent combo – next on the travel list is Norway when we find a spare week!
Samantha
I have worked as an Event Planner at Maximum Adventure since April 2018. I look after some of our corporate 3 Peaks groups and self-guided trips including The West Highland Way, Hadrian's Wall & Coast to Coast. I am also the hotel coordinator meaning that I am responsible for finding beds for our clients! I graduated from Leeds Beckett University in 2016 with a degree in International Tourism Management and working at Maximum Adventure has given me a great insight into the tourism industry. I was born and bred in a small village in Cumbria and still live there today. When I'm not at work I love getting outdoors with my dog, Tia.