An Introduction to Our 12 Best Long Distance Walks UK
As of August 2018, there are over 2,500 miles (4,000km) of long-distance walking trails, creating 16 routes in England and Wales. On top of this, Scotland hosts an additional 29 great long-distance walks.
That's a lot of walking!
With this much choice, things can feel daunting. But fear not, to help you select your next long-distance walking adventure, we've created this Maximum Adventure post.
In this article, we explore 12 of our top long-distance walks UK. We'll introduce each walk, its mileage, difficulty level and route highlights. Think of this article as your long-distance walks UK checklist.
What is long-distance walking?
Our 12 best long-distance walks UK
Pack your bag and feel the psych, it's time to go on a walking adventure!
What is long-distance walking?
There isn't a set definition for what a long-distance walk is. Generally speaking, if you walk a long way (usually 20 miles or more), then this is defined as a long-distance walk. You can progressively rack up insane mileage following walking routes designed across weeks or even months of trekking.
The UK is jam-packed with epic long-distance walking routes. These walks allow you to explore the UK's stunning countryside, whether you're stomping across rugged highlands or the quaint rolling hills of the Cotswolds. Long-distance walking is sure to give you an adventure fix and your life a little spice.
At Maximum Adventure, we want to make exploration and outdoor sport accessible, safe, and available to all. The company is founded on this mission, and we pride ourselves on consistently delivering exciting trips. Behind the scenes, we've been working hard to expand our trip portfolio just for you. This has included adding more long-distance walking holiday packages.
In our quest, we thought: What are the best long-distance walking routes in the UK?
Our team of experienced outdoor enthusiasts chose their top 12 long-distance walking routes, and today we present that list to you. We give you an overview of each walk, the route, mileage, and highlights. You can treat this article as your long-distance walking UK checklist.
Our 12 best long-distance walks UK
Before you start on your long-distance walking journey, note it's best practice to choose a route suited to your experience level. If you go in all guns blazing, it might put you off for life, and we don't want that!
To help you, we've graded our routes according to their difficulty level. If you're new to long-distance walking then we recommend you choose the beginner-level routes first and progress through to the intermediate and advanced levels.
With that said, let's jump straight into our list of the 12 best long-distance walks UK.
Long-distance walk UK #1: West Highland Way
Distance: 96 miles (153km)
Elevation gain: 4,312m (14,143ft)
Level: Moderate
About the route: The West Highland Way is one of Scotland's most beloved long-distance walking routes. The route stretches for a total of 96 miles, travelling from Milngavie to Fort William. In between, you'll walk across Loch Lomond, and through the breathtaking Glencoe valley. The West Highland Way's popularity boils down to its dramatic landscapes, wildlife, flora, ease of access, human history, and Scotland's unrivalled right to roam.
You can complete this route with Maximum Adventure in nine days, eight days, seven days, or six days. Alternatively, you can split the route up between north and south, completing each at separate times.
Route highlights:
Loch Lomond: Loch Lomond is infamous for its stunning scenery, and the song Bonnie Banks of Loch Lomond. The West Highland Way passes Loch Lomond between Rowardennan and Drymen. Make sure to seek out the sequence of lonely islands that stretch across the loch.
The Bridge of Orchy: The West Highland Way gets pretty remote once you've passed Tyndrum. This is pleasant as the route takes you away from the crowds. Being alone in the wilderness allows you to connect with your surroundings and the natural world. After you make your way around Beinn Odhar and Beinn Dorain, you'll meet the spectacular viaduct named the Bridge of Orchy.
Buachaille Etive Mor: Buchaille Etive Mor is one of Scotland's most famous Munro mountains. Its towering peak is the signature of the Glencoe valley. You'll climb Buchaille Etive Mor via the Devil's Staircase (this isn't as daunting as it sounds), which represents the highest point on the West Highland Way.
Long-distance walk UK #2: Offa's Dyke Path
Distance: 177 miles (284k)
Elevation: 9, 085m (29, 806ft)
Level: Advanced
About the route: The Offa's Dyke Path is a 177 miles (285km) walking route that was first established in the 1970s, and runs along the English and Welsh border. The route is named after Dyke King Offa, who ordered the construction of the path in the 8th century – probably to divide his kingdom from rival Welsh territory. The route passes through the Brecon Beacons National Park on the spectacular Hatterrall Ridge. The route links three areas of outstanding natural beauty, the Wye Valley, the Shropshire Hills, and the Clwydian Range/Dee Valley.
Route highlights:
Tintern Abbey: The Tintern Abbey was founded way back in 1131, making it an ancient structure that's full of history. You can admire the abbey with awe as you head towards Chepstow.
Pontcysyllte Aqueduct: Pontcysyllte Aqueduct is Britain's highest (navigable) Aqueduct, and it's part of the Offa's Dyke route. Word for the wise, don't look down once you're standing on the bridge, as this isn't for those who are phased by heights.
The black mountains: The black mountains are a group of hills scattered across parts of southwest Wales and the Brecon Beacons National Park. You can experience these mountains yourself by ascending to Hatterall Ridge.
Long-distance walk UK #3: Coast to Coast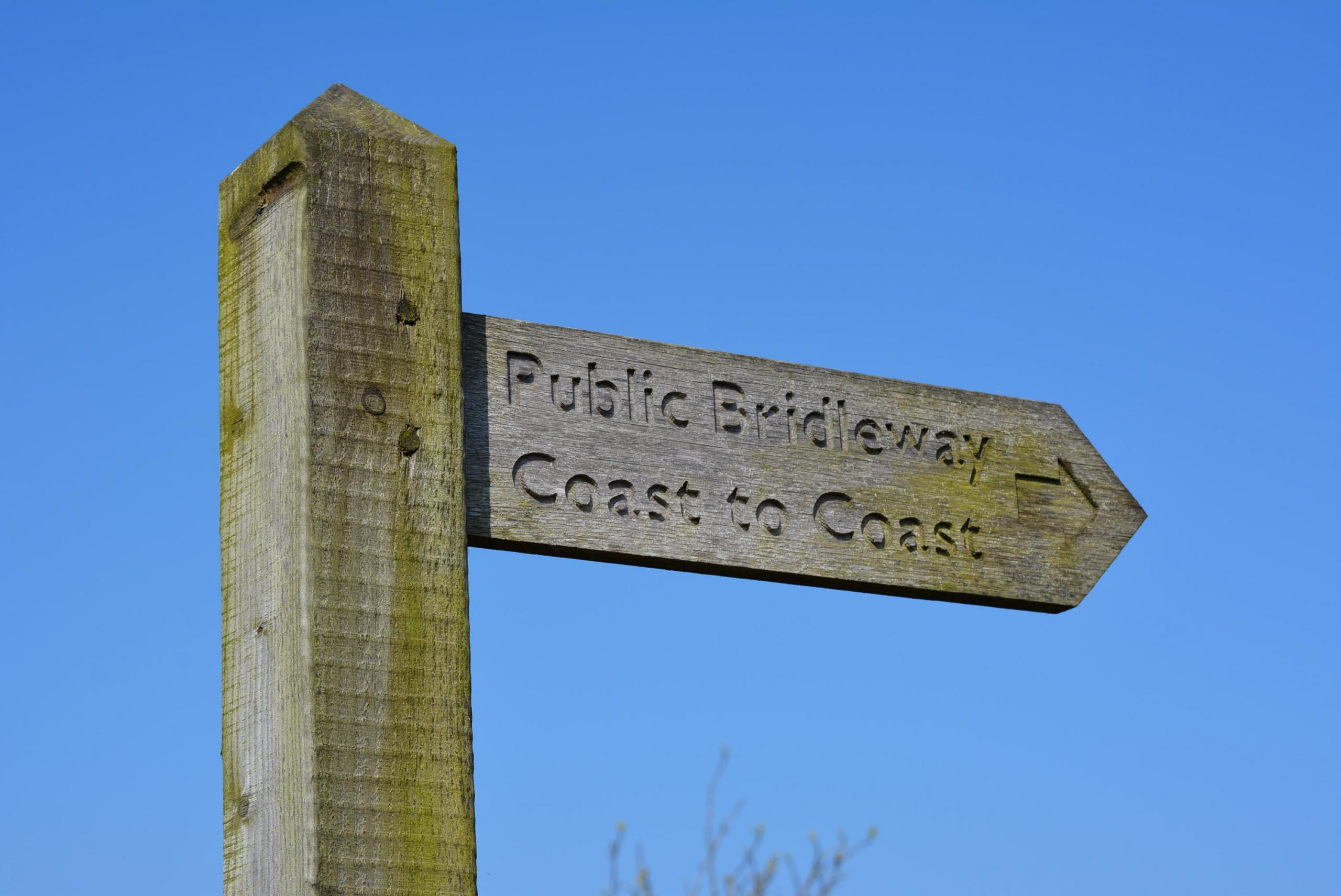 Distance: 192.2 miles (309.3km)
Elevation: 6.077, (19,933ft)
Level: Moderate
About the route: The coast to coast crosses the breadth of England, starting from St Bees in Cumbria and finishing at Robin Hood's Bay in North Yorkshire. The route was created by Alfred Wainwright, who worked to connect dozens of existing footpaths, bridleways, and minor roads. The Coast to Coast long-distance walk is one of the most popular in England due to its unique and attractive scenery.
You can complete this route with Maximum Adventure in 16 days, 14 days, 13 days, or 12 days.
Route highlights:
Grasmere: Not too far into your Coast to Coast walk, you'll come across the pretty village of Grasmere. Entering Grasmere is a bit like entering a time-warp. Spend some time exploring the village and trying the famous Wordsworth gingerbread.
Kirkby Stephen: Well, we're a bit biased here seeing as Kirkby Stephen is where the Maximum Adventure office is based. But the village is a hidden gem and a great place to stop. Take a stroll around the cobbled courtyards and why not pop into Max Ad to say hi.
Robin Hoods Bay: Robin Hoods Bay marks the end of the Coast to Coast walking route. Robin Hoods Bay is part of the North York Moors national park.
Long-distance walk UK #4: Cumbria Way
Distance: 73 miles (177km)
Elevation gain: 2,963m (9721,129 ft)
Level: Moderate
About the route: The Cumbria Way provides a relatively low-level crossing of the Lake District National Park, and follows tracks and valleys amid splendid and varied scenery. The route passes Coniston Water, Tarn Hows, Dungeon Ghyll and crosses Borrowdale's Stake Pass, Derwent Water, and Keswick. Long-distance walkers across the UK are constantly updating the route, waymarking, and hosting a dedicated Cumbria Way webpage.
You can complete this route at Maximum Adventure in seven days, six days, or five days.
Route highlights:
Tarn Hows: A tarn a small mountain lake, and Tarn Hows is one of the most popular in the Lake District. It's a beautiful spot that's surrounded by diverse woodland.
Colwith Force: There's plenty of water in the lake district which blesses the area with spectacular falls. Colwith Force is a 55-foot waterfall near Ambleside. It's more hidden than its popular cousin, Skelwith Force, but in our opinion, it's more impressive.
Langdale: Langdale is a grand valley stretching some 12,170 acres from Ambleside to Dungeon Ghyll, so there's no missing it. The Langdale Valley is surrounded by the famous fells, Crinkle Crags and Rossett Pike, which host timeless views of grazing sheep and dramatic peaks.
Long-distance walk Uk #5: Jurassic Coast
Distance: 76 miles (122km)
Elevation gain: 3965m (13,008ft)
Level: Beginner (with an advanced challenge option)
About this route: This route is part (the best part) of the longer South West Coast Path that runs from Lyme Regis to Poole. The Jurassic Coast is a World Heritage Site on the English Channel coast of southern England. In a few short days, you'll travel through millions of years of evolutionary history captured in the geology of the area. You'll ascend rising cliffs and enter hidden coves while looking out over the ocean's horizon.
You can complete this route with Maximum Adventure in six days (beginner) or take our one day Jurassic Coast Challenge (advanced).
Route highlights:
Golden Cap: The Golden Cap is a hill that's arguably the highest point on the south coast of Great Britain. It's visible for miles along the coastline and forms part of the Jurassic Coast route. The base of the hill is popular among fossil collectors.
Durdle Door: Durdle Door is a natural limestone arch on the Jurassic Coast near Lulworth in Dorset, England. Durdle Door has formed from weathering on contrasting hard and soft rock layers.
Lyme Regis: Lyme Regis is a town in West Dorset and is sometimes dubbed the pearl of Exeter. It lies between the English Channel and the Dorset-Devon border. Fossils can be found on the cliffs surrounding the town.
Long-distance walk UK #6: Hadrian's Wall
Distance: 84 miles (135km)
Elevation gain: 2,027m (6,648ft)
Level: Moderate
About this route: Hadrian's Wall is steeped in Roman history making it a popular long-distance walk. Along the way, there are even Roman Forts and museums giving you a glimpse of what life must have been like for the Roman soldier. Take some time to soak up the quiet solitude of this corner of England as you walk across craggy landscapes and rolling hills.
You can complete this route with Maximum Adventure in six days, seven days, eight days, or nine days. Other variations include the Hadrian's Wall three day marathon, a three-day Hadrian's Wall highlights expedition and a Hadrian's Wall walk-cycle-walk split.
Route highlights:
Brocolitia Fort: Also known as Carrawburgh Fort, Brocolitia Fort is an unearthed Temple of Mithras. This third-century construction was built to worship the eponymous Roman god. Although the fort is now desecrated, some of the walls remain alongside copies of the original altars.
Vindolanda: The museum at Vindolanda gives you a glimpse of a Roman garrison town. This is an excavated site that includes parts of the fort and town, with reconstructed turrets and temples.
The Sycamore Gap: The Sycamore gap is symbolic of Hadrian's Wall, and it's where the Robin Hood Tree lives. This tree is featured in a key scene of the 1991 film Robin Hood: Prince of Thieves. The Robin Hood tree is a sycamore tree that's a few hundred years old.
Long-distance walk UK #7: Chiltern Way
Distance: 125 miles (200km)
Elevation gain: 221m (725ft)
Level: Advanced (but can be beginner level when completed over a longer period)
About the route: The Chiltern Way is a waymarked long-distance footpath located in Southern England. The landscape is rolling, dotted with wooded hills and nature reserves. The track is well-signposted making this an easy route in terms of navigation. This is a great beginner long-distance walking route, but many do the Chiltern Way as a one-day challenge (which you can book here with Maximum Adventure).
Route highlights:
Marlow: Marlow is a vibrant Georgian town that lies on the Chiltern Way. The town is made up of historic streets and an abundance of boutique shops, restaurants, cafes, and bistros, making it an ideal place for a break.
Pullingshill Wood: Pullingshill Wood is a picturesque woodland that's home to rare orchids and WW1 training trenches. The woodland is mostly beech woodland slopes that run down to the field on the western side.
Warburg Nature Reserve: The Warburg Nature Reserve lies in the secluded valley of the Chilterns where there's a mosaic of habitats from birch, conifer, and beech woodlands, to chalk grassland and scrubs.
Long-distance walk UK #8: Cotswold Way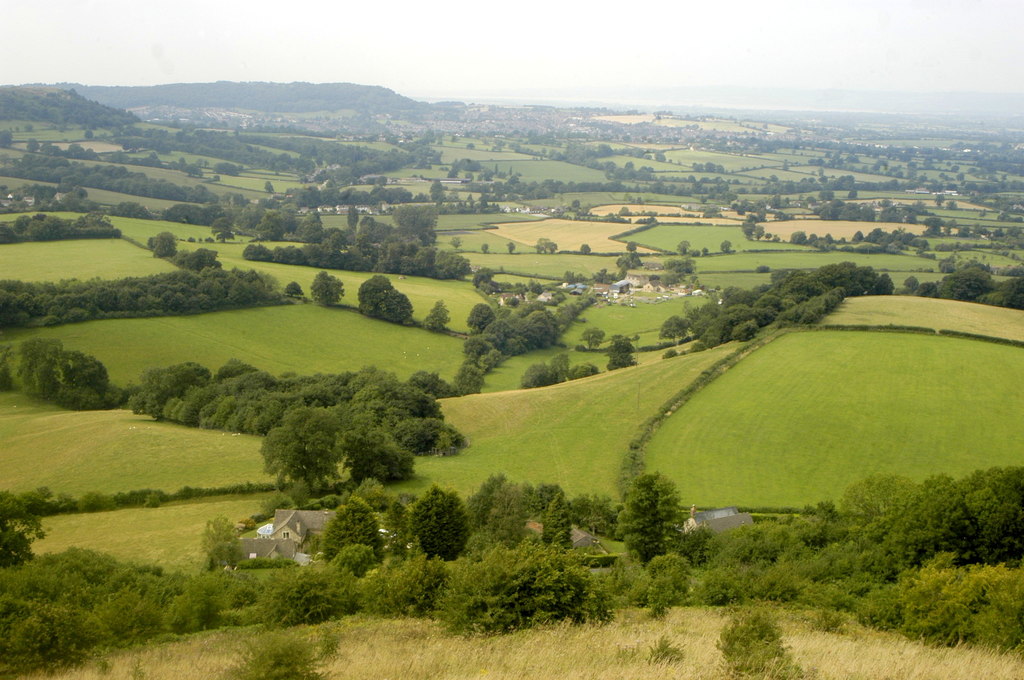 Distance: 102 miles (154km)
Elevation gain: 4,311m (14,143ft)
Level: Moderate
About this route: The Cotswold Way runs from the small market town of Chipping Campden to the City of Bath World Heritage Site. To complete this walk you'll trek through open farmland and honey-coloured villages that are built from Cotswold stone. You'll pass stately homes and ancient battle sites, Neolithic burial grounds, and old towering castles.
You can complete this walk with Maximum Adventure in seven days, eight days, or nine days. You can also choose to split the walk into two separate trips, one five day trip north on the route, and a five day trip south on the route.
Route highlights:
Broadway Tower: Broadway Tower is the tallest tower in the whole of the Cotswolds and has an eventual history. The tower is known as a folly which means it's an expensive building that has no real purpose. Allegedly the tower was built at Lady Coventry's request to find out if the beacon was visible in her Worcester home 22 miles away. It's worth seeing anyway.
Stanton: Stanton is referred to as the most beautiful and pristine village in the Cotswolds. The houses are built from beautiful local golden-yellow limestone, with well-tended gardens, and historic buildings. Make sure to make a stop here.
Roman thermal baths: The Roman thermal baths are a great finish to a long walk. The thermal springs are a treat for achy muscles. The use of thermal baths dates back to before the Roman invasion of England. The Celts built the first temple here.
Long-distance walk UK #9: Great Glen Way
Distance: 74 miles (120km)
Elevation gain: 1,800m (5904ft)
Level: Moderate
About this route: The Great Glen Way is one of Scotland's greatest trails covering 74 miles of the Scottish Highlands. The trail starts in Fort William, which is home to Britain's highest mountain Ben Nevis. The Great Glen Way stretches from coast to coast across the highlands, passing stunning scenery which includes Loch Lochy and Loch Oich. You'll also walk along the towpath of the Caledonian Canal – built by Thomas Telford – before finishing the route in Inverness.
Complete this route with Maximum Adventure in six days or seven days.
Route highlights:
The Jacobite Steam Train: Harry Potter fans you're in for a treat – the Jacobite Steam Train is the Hogwarts Express. Well, kind of. The Harry Potter scene of the Hogwarts express passing over a viaduct is taken from the West Highland Railway line – the route taken by Jacobite Steam Train.
Urquhart Castle: Urquhart Castle rests on the bank of Loch Ness – providing a perfect strategic lookout point for the Loch Ness Monster. The castle has been under the control of many different people during its history and has witnessed several blood battles during the Scots struggle for independence.
Ben Nevis: Ben Nevis is Britain's highest mountain. We'd even recommend you to spend a day or two away from the Great Glen Way to climb this peak as it's well worth it. You can book your Ben Nevis ascent with us at Maximum Adventure.
Long-distance walk UK #10: Lake District Round
Distance: 90 miles (144km)
Elevation gain: 8,200 m (27,000ft)
Level: Advanced
About the route: The Lake District National Park is a UNESCO World Heritage Site, which comes as no surprise when you explore this rugged landscape, with its towering peaks and pretty lakes and tarns. The Lake District Round explores the heart of the Lake District and involves both rocky and grassland sections. For those who want an easier option, there's a lower-level route. The traditional route is, however, high-level and runs over mountain summits.
You can complete this route with Maximum Adventure in eleven days, nine days, or six days.
Route highlights:
Helvellyn: Your route passes Helvellyn, which is one of the few peaks that captures the awe from many. The mountain has enthralled local shepherds, early tourists, poets, painters, writers, and thrill-seekers alike for hundreds of years. As your route passes Helvellyn be sure to take a peek at this beautiful mountain.
Scafell Pike: Scafell Pike is the highest mountain in England. Your route passes this peak near Wast Water. Make sure to take a look at this stunning mountain.
Lake Windermere: Lake Windermere is the largest lake in Cumbria's Lake District National Park. Lake Windermere is 10.5 miles long, and 219 ft deep. The lake is surrounded by mountain peaks and villages, including Bowness-on-Windermere, where there's The World of Beatrix Potter Attraction.
Long-distance walk UK #11: The Ridgeway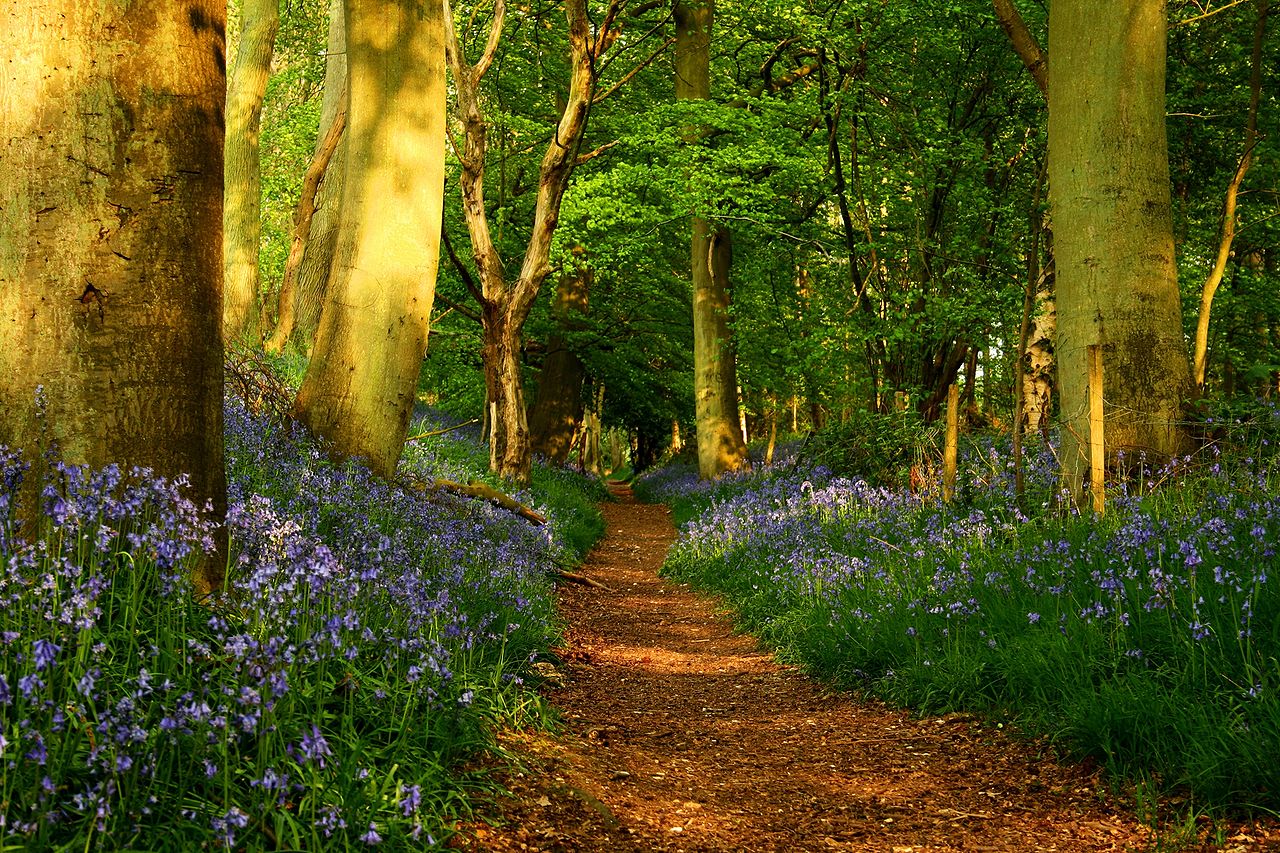 Distance: 87 miles (140km)
Elevation gain: 2,357m (7,733ft)
Level: Beginner
About the route: Relative to the other routes listed in this article, the average distances on The Ridgeway are smaller, plus the route is relatively flat. This makes it a good entry-level, long-distance walk. The Ridgeway follows the North West Downs, starting in Avebury/Overton Hill and ending in Ivinghoe Beacon. The trail has a captivating history that dates back thousands of years. You'll see remnants of this history on your journey, from Iron Age Forts to White Horses carved into a chalky hillside.
You can complete this route with Maximum Adventure in eight days.
Route highlights:
Avebury Bronze Age stone circle: About a mile from the start at Avebury lies a Bronze Age stone circle. The circle is a World Heritage Site and one of the largest prehistoric monuments of this type in Europe.
White Horse Hill: White Horse Hill is located in Uffington. It's an iconic monument of the Bronze Age, meaning it's ~3000 years old. The chalk horse figure is an enormous 374ft long, and is believed to have been constructed by digging trenches in the horse's shape.
Wayland's Smithy: Wayland's Smithy is a Neolithic burial mound (long barrow) that lies 50m north of the Ridgeway, and is owned by the National Trust. The site is 5,000 years old. The site is named by the Saxons, Wayland being a Saxon smith God.
Long-distance walk UK #12: The Pennine Way
Distance: 268 miles (431km)
Elevation gain: 9 753m (32,000ft)
Level: Advanced
About the route: We finish the list of our 12 best long-distance walks with the Pennine Way, which is somewhat of a founding father. The Pennines are termed as the backbone of Britain, and snake 268 miles from the Peak District to the Scottish Borders. The Pennine Way is one of the most challenging walks on our list, with its steep ascents and rocky terrain. Many take 3 weeks to tackle this walk, or others split the route to tackle each separate part at different times.
Route highlights:
Kinder downfall: You'll meet the Kinder Downfall on your first day hiking the Pennine Way. This is the second-highest ascent on the route. Kinder Downfall is the tallest waterfall in the Peak District and is worth stopping to view the waterfall's dramatic views.
Top Withens Farmhouse: Top Withens Farmhouse is said to be based on Emily Brontë's famous 1847 novel, Wuthering Heights. The farmhouse is surrounded by a dramatic moorland landscape that served as inspiration for many of the Brontë sister's novels.
Malham Cove: Malham Cove is easily one of the route's most dramatic features. It's a natural amphitheatre rearing up to 70m in height, and is likely formed by glacial water some 12,000 years ago. Check this spot out on your way out of Malham.
Book your long-distance walking adventure with Maximum Adventure
So there you have it, our 12 best long-distance walks UK. If you've completed a long-distance walk that you think should have made our list, please get in touch, as we'd love to hear from you.
If you book your long-distance walk with us at Maximum Adventure we'll take care of the logistics, planning and safety aspects of your trip for you. We want you to have an experience of a lifetime, so let us help you plan your long-distance walking holiday.
Is there a specific long-distance walk you'd like to do that we haven't mentioned in this list? Please get in touch, as we'd love to hear from you and add your ideas to our article!